Food Chopper Ardesto CHK-4001BR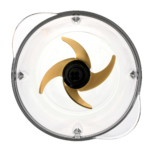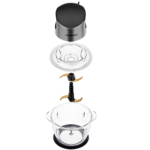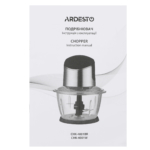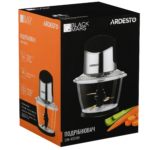 Compact black food chopper for quick chopping of ingredients and cooking a variety of sauces. The package includes a glass bowl and a double knife.

* Рекомендована роздрібна ціна
Where to buy
Number of nozzles
1 (double chopping knife)
Material of the knives
Stainless steel
Bowl for grinding capacity, l
1
Protection
Overheat motor protection
Dimensions (WxHxD), cm
18.5x23.5x16
Package dimensions (WxHxD), cm
17x24x18
Package volume, m3
0.0073
Ergonomic and productive
The ergonomic body of the chopper is made of black soft-touch plastic. Premium design is complemented by brushed metal gray insert. Double knives are made of durable and reliable stainless steel with a titanium coating, which provides perfect sharpening for a long time of use. A 1-liter glass bowl is equipped with a non-slip rubberized base which provides convenience during use. The 400 W motor is protected against overheating.