Humidifier ARDESTO USH-M-CNTRTCH-8L-W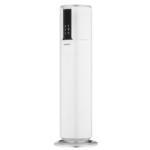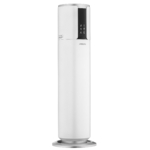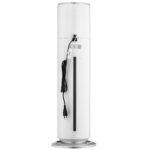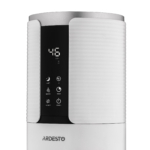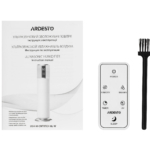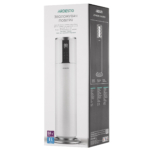 Ultrasonic humidifier with LED display, remote control, timer and humidity level sensor. It has three levels of moisture: minimum, medium and maximum. The volume of the tank is large, 8 liters. If the tank becomes empty, an automatic shutdown is provided. The humidifier works silently, so you can use it while you sleep. The device has an ergonomic design and top water filling.
3 levels of moisture
LED display
Remote control
Timer from 1 to 12 hours
Humidity sensor
large tank
Silent operation
Specifications :
Ultrasonic humidifier

50

28

220-240

170/250/300

8

35

Yes, when the tank is empty

Yes

Yes

Yes

White

Temperature and humidity sensor, silent operation, timer, backlight off

22.6x76x22.6

2.2

Device, manual, warranty card, cleaning brush, remote controller

China

12 months
Trendy and Comfortable
The ARDESTO USH-M-CNTRTCH-8L-W ultrasonic humidifier is made in a modern design from reliable and harmless white plastic. The device is complemented by an LED display and backlight, which turns off during night mode, without disturbing during sleep. The quiet operation of the device adds to the comfort during use.
Ease of use
The design of ARDESTO USH-M-CNTRTCH-8L-W is ergonomic. The humidifier has a top water fill, so it is very easy to control its level. If the tank becomes empty, an automatic shutdown is provided. A remote control is included for convenient control.
Effective moisturizing
The device is designed to humidify the air in a room up to 46 m2. Thanks to the large tank volume (8 l) and high performance up to 300 ml/h, the humidifier can be used continuously for 10 hours. The built-in sensor is responsible for adjusting the intensity of evaporation.