Ice Stick Tray Ardesto Fresh Stick AR1102TP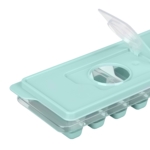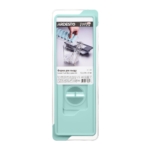 Plastic transparent ice stick tray with silicone bottom and a flexible cover with a flapper for nine sticks of ice.
* Рекомендована роздрібна ціна
Where to buy
Material
Plastic (PP-5), silicone
Cleaning in the dishwasher
Yes
Kit
Ice stick tray with cover
Dimensions (WxHxD), cm
9.5x3.8x27
Package dimensions (WxHxD), cm
9x4x26
Package volume, m3
0.0009
Easy and fast
Ardesto Fresh Stick series ice tray is made of high quality safe plastic which meets all standards and does not contain any harmful substances (BPA Free). The cover with the flapper is designed to light and quick filling the form with water. The silicone bottom will help to extract the ice with a single tap.