Refrigerator Ardesto DNF-M326W200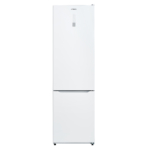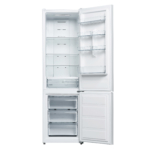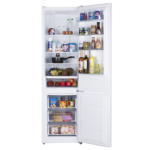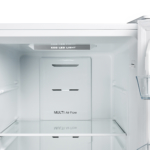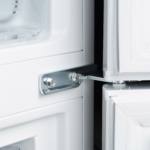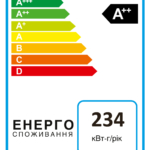 Two-chamber white refrigerator with electronic control and No Frost cooling system. Suitable for large office or apartment. The refrigerator's energy saving class is A++, there is a dynamic LED-backlight and the option to override the doors.

Specifications :
Fridge-freezer

321

A++

Electricity consumption, kWh/annum

234

Combined

White

2

Embedded

Yes

Freezer compartment placement

Bottom

245

76

No Frost

Automatic

Automatic

Yes

LED

15

N/ST/T

From +2°С to +8°С
From -16°С to -24°С

Yes

No

40

Number of shelves in fridge compartment

3 and more

Number of drawers in fridge chamber

1

Number of shelves on the door

3 and more

Number of freezer compartments

1

Number of drawers in the freezer compartment

3

59.5

201

63

80

220

180

China

12 months

Package dimensions (WxHxD), cm

69x207x65

80

0.9284
No Frost cooling
No Frost cooling system effectively distribute cold airflows through the inner chambers and prevent condensation and frostbite. Control combined – electronic, with LED indication for the refrigerator compartment (from 2°C to 8°C) and mechanical for the freezer (from -16°C to -24°C). Also available Fast Cool mode. The total capacity is 321 liters, where the capacity of the refrigerating chamber is 245 liters, and the freezer compartment is 76 liters. The interior space will be enough for a lot of fresh products, jar, drinks and freezes. The refrigerator compartment has four main shelves and six shelves on the door, as well as fresh area to store delicate products. In the freezer there are three compartments with drawers are available.
Perfect look
The refrigerator height is 201 cm and the width is 59.5 cm. The weight is 72 kg. Handles for opening are built-in. Matte enameled coating on the doors give the refrigerator a perfect look. The Ardesto DNF-M326W200 will look good in a large room, such as a kitchen or living room.