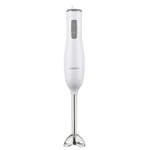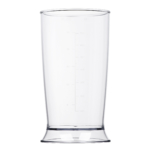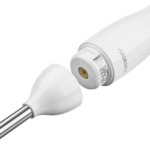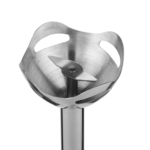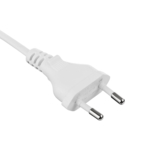 Immersion hand blender for quick grinding of ingredients and preparation of various sauces and drinks. The package set includes a nozzle for mixing and a measuring cup of 700 ml.

Specifications :
Hand

500

2 (common and turbo mode)

Mechanical

Plastic, metal

White, grey

1 (for mixing)

Stainless steel

Material of the knives/whisk

Stainless steel

Measuring glass capacity, ml

700

Overheat motor protection

6.4x38x6.4

590

220

110

China

12 months

Package dimensions (WxHxD), cm

12x18x25

1

0.0054
Ergonomic and durable
The blender has an ergonomic white case made of durable plastic, and the knives which are made of durable stainless steel. The special shape of the foot provides protection against splashing. Measuring cup with marks is designed for 700 ml. The 500 W motor is protected against overheating. There are two speed modes: regular and turbo. Due to the thought-out design the device works with a low noise.